The bill would help bolster the country's media industry and tackle fake news circulating on the internet.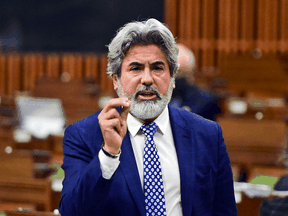 Content of the article
OTTAWA — Heritage Minister Pablo Rodriguez is set to introduce a bill within days to force digital giants to compensate Canadian media for the reuse of their news content.
Content of the article
The bill is inspired by an Australian law requiring tech companies, such as Google, to pay for news content on their platforms.
Rodriguez has previously said the bill is a priority and will help support Canada's media industry and fight fake news circulating on the internet.
The Online News Bill will create a framework for professional media to collectively negotiate deals with online platforms such as Google to compensate them for the use of their content.
Canada would have a regulator and impose arbitration if a fair deal could not be reached between Canadian media and companies such as Google and Meta, formerly known as Facebook.
Rodriguez says that over the past 15 years, about 450 Canadian news outlets have closed, with the bulk of ad revenue going to big digital companies.
This report from The Canadian Press was first published on March 30, 2022.
Russians face 15 years in prison for spreading 'fake news'

Manipulated media: Video claims to show Biden asleep during meeting with Israeli PM